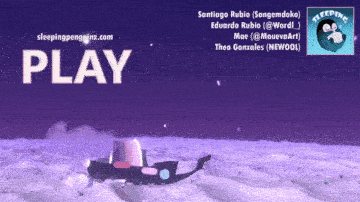 Night Mirage
A downloadable game for Windows and macOS
This game is a Community Game Jam entry for the theme "The game is a liar".
In our game you will take control of a little desert wanderer who crashes his ship and tries to find the missing pieces to repair it. He is faced with a treacherous desert which distorts his surrounding with strong mirages.
We interpreted the theme by creating a game with visual deception. The objects of interest have similar colors as the monsters lurking the desert. From far you will have difficulty making the difference... You cannot defend yourself so if you see a monster ... RUN!
Make sure to find all the missing objects AND fix the ship before you run out of stamina! You can eat some cactus fruit to regain stamina.
Use the mouse to look around and the WASD keys to move. Click with the mouse to interact with objects.
Made by:
Santiago Rubio (Sangemdoko) : Coding and Unity stuff
Eduardo Rubio (@Wardl_) : Animation + Art
Mae (@MouevaArt) : 3D + Art
Theo Gonzalez (NEWOOL) : Music + Sounds
PS: Juggling between the jam and work was an experience. I was to busy to do anything else. Even the though this was a week long jam I think we spent just as much time on it as other jams... considering we started on Monday. But even though we actively worked the same amount as usual I think the additional thinking time was very beneficial. Especially to work out the intricate parts like the mirages and the infinite terrain.
Install instructions
Unizip the folder and run the executable. Only works for Windows PC.
Comments
Log in with itch.io to leave a comment.
Can you please do a Mac build?
I've added a Mac build as you requested. Note that I do not own a Mac so this build is untested. Hopefully it works and you can play our game :)
Thanks. Unfortunately, the game is too slow to play for me.
You probably render it in full resolution which is 2560x1600 on Mac and which is quite a lot for it's graphics card.
awesome, i liked the art and the first person theme, but i fel dizzi with the background